Description
A034 – Private speedboat charter to Racha and Coral islands (8hrs.)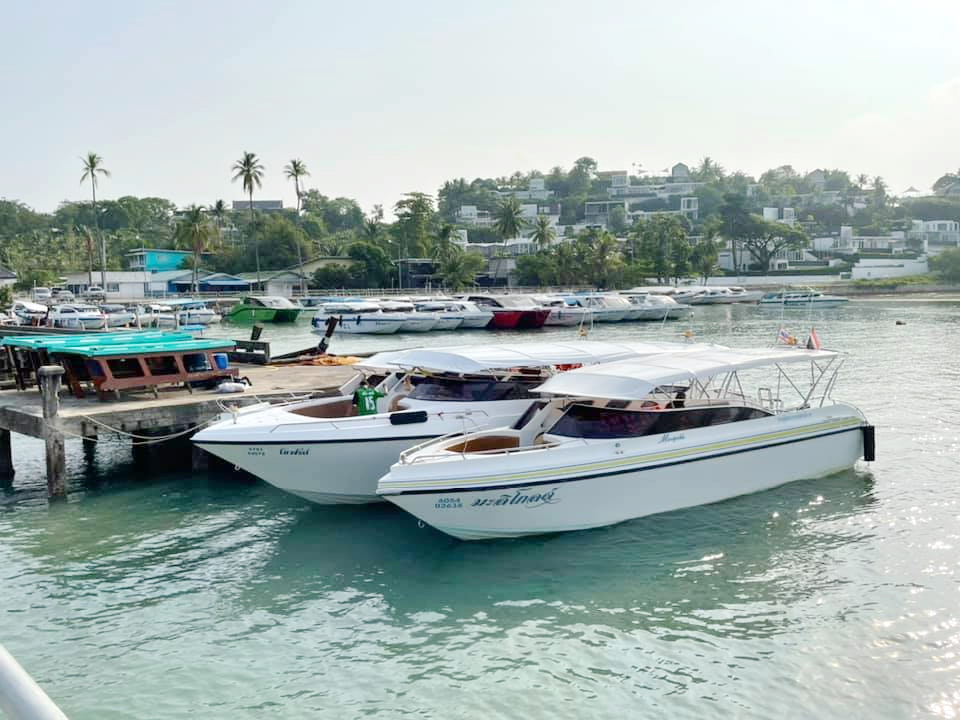 Racha Yai and Racha Noi Island (Koh Racha Yai and Koh Racha Noi), Phuket
Lying about 20kms south of Phuket, the Racha Islands comprise two islands, Koh Racha Yai and Koh Racha Noi. To confuse matters they are also known as Koh Raya Yai and Koh Raya Noi (Yai means "big" in Thai and as you may have already guessed, noi means "little").
The islands possess crystal clear waters and white sandy beaches. They are very popular with divers and snorkelers, with challenging dive sites for advanced divers as well as plenty for beginners and snorkelers.
Racha Yai:
Closest to Phuket is Racha Yai. The island is mostly inhabited by muslim farmers and fishermen. This island is also where all the accommodation is located.
The main beach, on the island's northwest coast, is Ao Tawan Tok (also known as Ao Bungalow), which is located in a u-shaped bay. The sand here is snow white and has the consistency of talcum powder. There are a few bungalow resorts and restaurants located here, including the 5-star The Racha.
Like many islands in the area, Racha Yai is popular with day-trippers from Phuket and Ao Bungalow can get a little busy in the afternoons. However, at night the island is pretty quiet with only a few restaurants and bars. The lack of bright lights means that the night sky is light up with stars, great for stargazing on the beach.

Racha Noi:
A little to the south of Racha Yai is its smaller twin, Racha Noi. This island is uninhabited and has more rocks than beaches. There is a small bay on its west coast that is a favourite spot for fishing, but apart from diving there is little else to do here.

Coral Island or Ko He
Coral Island or Ko He is located Phuket's south coast, is so well known for its coral reef that it is often referred to simply as Coral Island. In addition to the splendid reefs there are two fine beaches on the north and west of the island. Accommodation, restaurants, various watersports, diving and package tours are all available. Boats leave from Hat Rawai and Ao Chalong.

Itinerary
Pick up from your hotel
Depart from pier and heading to Coral island.
Arriva to Coral Island, relaxing on the beach, swimming and enjoying the activities on the beach; diving, sea walker, Parasailing, Banana Boat (Additional cost for an activities).
To Racha Island, Enjoy the beautiful views of the white sand contrasting with the color of the sea, the coral and the colorful fish, then relaxing on the beach.
Depart from Racha Island, drinks and snacks will be provided.
---
Price per boat (THB)

Boat 250HP x 2 for 1-18 passengers
Boat 250HP x 3 for 19-32 passengers
36,000 THB
51,000 THB
Notes:
The program / timing might change depending on tide (sea condition). Weather conditions, accident or any other reason that concern for the safety and comfort of the all guests.

Our speedboat tour are not recommended for pregnant women / person over 70 years of age / children under 1 year old. / have any medical disability not allowed on board.

You can confirm your booking by transfer money for 50% of tour price and pay the rest on travel date at Phuket.
Tour Included:
Roundtrip from hotel to pier transfer 1 minibus (9 person).
Tour time 8 hrs.
English speaking tour guide
Soft drink, water and fruit
Life jacket and snorkeling equipment
Travel accident insurance

Exclude

Lunch

Exclude

National park fee

Exclude

  Alcohol drink
What to bring:
Towel
Swimming suit or short and T shirt
Sun block
Your favorite hat and cool sunglasses
Camera or phone
Some small money