Description
A038 – Private speedboat charter to Krabi (8hrs.)
Talay Wak (Unseen in Thailand)
One of Thailand's unseen highlights, this amazing natural phenomenon is set to take place at Ko Daam Kwan Island five days before and after the full moon, from December to the early May, when tides change dramatically in different hours of a day. When the tide is low, it reveals a white sand dune and limestone beach connecting two islands together.
Ko Mo and Tup Island. There is an adjacent ridge when the sand blows the waves meet at this point, thus creating a ridge The sand connects these three islands to each other. This dune will disappear when the water lowers the dunes line, it will gradually Appeared as if dividing the sea into three parts
The sandbar will appear at the lowest sea level. But even if the dunes are not visible, we can take a walk. The sandy beach of this separated sea is white, clean and inviting. Every time the flooding of the dunes is like cleaning the beach in itself. Various garbage or wood chips The waves hitting the beach will disappear as the tide rises.

Most people who visit these offshore islands do so to soak up the sun on the pristine white beaches or to engage in other popular activities such as diving and snorkeling in the clear blue waters of the Andaman Sea where there is an abundance of colorful fish and corals.  These popular islands are located within the Mu Koh Poda archipelago which forms part of the Krabi province.
If you happen to be crossing the sand bar when the waters are just receding it is better to where thongs or shoes as shells and coral can often be felt under foot as you walk along.

Railay Beach
The heaven of rock climber nested near Krabi Town. This small peninsula is tight bear hug from towering cliffs made it separate from outside world, no road, no car and no nothing can spoiled. Inside is the treasure of nature with beautiful beaches, rainforest mountain with cave, high vertical limestone cliffs and lagoon in the jungle.
Hong Island
Hong island is a get away island on the Krabi coastline. Spend your day doing nothing but lazing on virgin sands. This wonderful group of tiny islands offers breathtaking scenery, soft white-sand beaches, coral reefs and a beautiful lagoon. It's where you can enjoy swimming, kayaking, snorkeling, scuba diving, fishing, sunbathing, hiking, and picnicking. Koh Hong is part if Than Bok Khorani National Park and it's only open for day visits with no overnight stays allowed.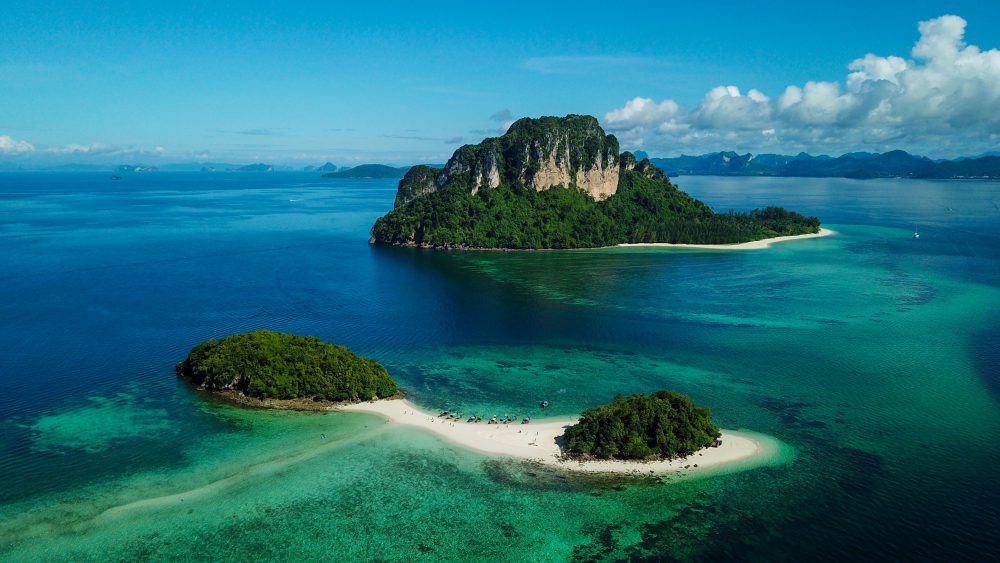 Itinerary
Pick up from the hotel lobby and transfer to the pier
Departs from the pier
Arrive at Hong Island (Krabi), prepare equipment To go canoeing, snorkeling, snorkeling, swimming, sunbathing or walking to explore the nature trails in Hong Island. Enjoy a calm relaxing day on the secluded Hong Islands in Krabi
Travel to snorkeling at Pak Bia Island , Lading Island . And canoeing on Pang Island Or you can choose to play in the water or take a leisurely walk on the beach.
To Krabi 4 Island Private Tour with a boat trip Sea Sights Unseen Thailand with the most beautiful wonders. That we can walk on the white sand Beach. From one island to another at low tide, there are 3 islands: Kai Island, Ko Thap, Ko Mo and to Poda Island, the island known as the most beautiful beach in the group, in front of Ao Nang beach, which features Poda Island is an island surrounded by sandy beaches on three sides.
To Railay Beach on the white sand Beach. The heaven of rock climber. This small peninsula is tight bear hug from towering cliffs made it separate from outside world, no road, no car and no nothing can spoiled.
Back to the pier.
---
Price per boat (THB)

Boat 250HP x 2 for 1-18 passengers
Boat 250HP x 3 for 19-32 passengers
36,000 THB
51,000 THB
Notes:
The program / timing might change depending on tide (sea condition). Weather conditions, accident or any other reason that concern for the safety and comfort of the all guests.

Our speedboat tour are not recommended for pregnant women / person over 70 years of age / children under 1 year old. / have any medical disability not allowed on board.

You can confirm your booking by transfer money for 50% of tour price and pay the rest on travel date at Phuket.
Tour Included:
Roundtrip from hotel to pier transfer 1 minibus (9 person).
Tour time 8 hrs.
English speaking tour guide
Soft drink, water and fruit
Life jacket and snorkeling equipment
Travel accident insurance

Exclude

Lunch

Exclude

National park fee

Exclude

  Alcohol drink
What to bring:
Towel
Swimming suit or short and T shirt
Sun block
Your favorite hat and cool sunglasses
Camera or phone
Some small money