Description
P002 – 4 Days 3 Nights Full Services Tours Phuket Tour – Surin islands – James Bond island tours
Itinerary 
Day 1 : Airport pick up, Phuket city tour (Private tour) then hotel check-in
Private VIP air-conditioned van and staff will pick you up at Phuket International Airport on your arrival time (recommend morning flight booking). Then we are heading on a Phuket city tour.
09.00 Bring you to have breakfast at Super Dim Sum(Phuket breakfast) restaurant has a good idea at Bak Kut Teh, which smells Chinese medicine soup.
10.00 Take a tour of the beautiful buildings, houses, ancient buildings, Sino-European architecture in Phuket town that have different characteristics according to the structure. And economic status of the owner at the old Phuket town.
11.00 Go to viewpoint Big Buddha at Khao Nak Kerd, the Buddha image of Phuket. The foreigner, known as the Big Buddha, is a huge white Buddha statue and you can sea Phuket town from top of the mountain.

13.00 Having lunch at Mai-mon Restaurant
15.00 Take a photo together at the viewpoint of 3 bays, which is a wonder of nature that was carefully created. It offers views of the 3 bays: Kata Noi Bay, Kata Bay and Karon Bay, which is a very beautiful scenery.
16.00 Then visit Nai Harn beach and the windmill viewpoint
17.30 Go to see "Laem Phrom Thep", a rocky cape that juts into the sea. There are many palm trees at Promthep Cape. But later there were many broken palm trees from the strong wind Standing at Promthep Cape looking out to the sea, you will see Koh Kaew Noi – Big Kaew Island in front of you. And is a very beautiful natural view point.

18.00-18.30 Watch the most beautiful sunset.
19.00 Go for dinner at Ton Oak restaurant, seaside atmosphere, fresh food from the local fisherman sea.
20.00 Send you to the accommodation and rest at your leisure.
*** Good night ***
---
Day 2 : Surin islands tour by speedboat full day with lunch. (Join tour)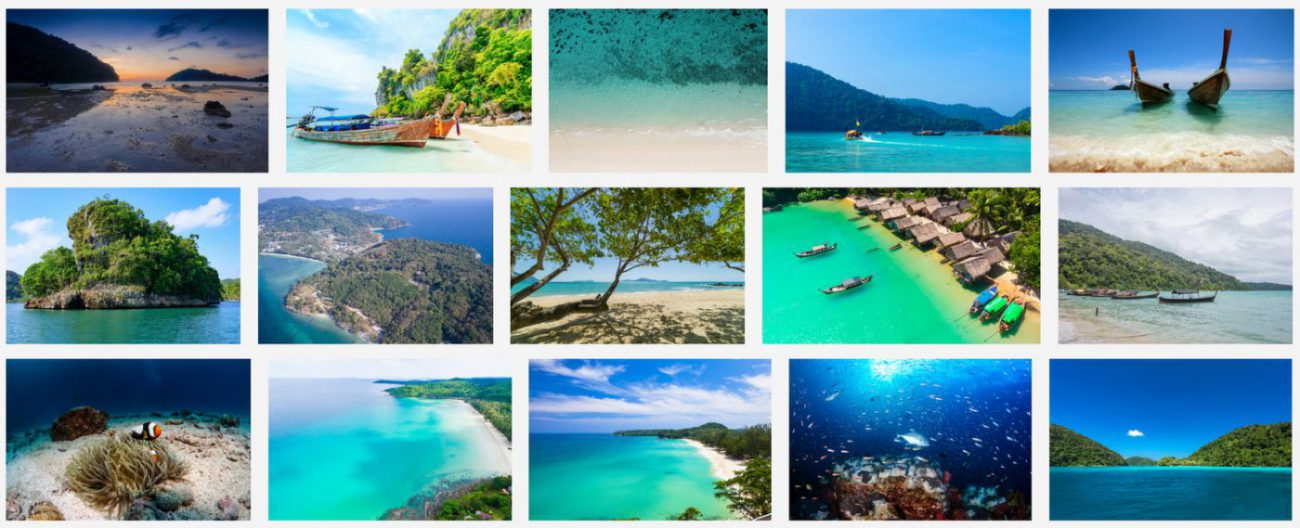 06.00AM. Mini van pickup you from hotel lobby and head to pier at Namkhem Marina, Phangnga. (2 hrs 15 minutes)
08.30AM. Welcome you on board at pier (Namkhem Marina) to check in and pick up snorkeling equipment. Serve you with hot drinks and bakery.
09.00AM. Depart to Surin Islan (Best for snorkeling site of Andaman) by speed boat.
10.20AM. Arrived at Surin Islands National Park, go to 1st snorkeling at Chong Kad Channel then visit Moken village where the sea gypsy residing in north Andaman sea.
12.00PM. Buffet lunch served in the national park restaurant with variety of beverage menu and seasonal Thai fruits being provided by Seastar for a special person like you.
01.30PM. 2nd Snorkeling at Bon Bay or Mae Yai Bay.
02.30PM. 3rd Snorkeling at Pineapple Bay or Turtle Bay to enjoy the beauty of coral and fishes.
03.30PM. Departure from Surin Islands with the impression.
05.00PM. Arrive at pier (Namkhem Marina). Welcome you with a variety of drinks, snacks, tasty papaya salad, fried chicken, ice cream, then back to your hotel.
16.30 Departure from the pier to the hotel.
19.30 Pick up for dinner at our selected restaurants; Tung-Ka restaurant and relaxing after dinner
20.30 Send you to the accommodation and rest at your leisure.
***Good night ***
---
Day 3 : James Bond island tour, Canoeing, Samet-Nang-Chee viewpoint (Private tour)
JAMES BOND island tour by Private Long tail boat; Discover James Bond Island where the movie "James Bond 007 – The Man with The Golden Gun" was filmed in 1974, located in the Phang Nga National Park which has the most spectacular scenery. This trip offers spectacular scenery and amazing views of the Phang Nga National park

06.30-08.00 Breakfast at the hotel
08.00 The Driver and Tour guide will pick you up to the pier at Krasom in Phang nga province.
09.00 Arrive at Krasom pier.
09.30 Depart from Krasom pier to Phang nga national park by Big private long tail boat.
09.45 Sightseeing at the biggest mangrove forest in Thailand.
11.30 Canoeing activities
12.00 Having lunch at PANYEE ISLAND restaurant.


13.00 Visit KHAO PING KAN, KHAO TAPOO (JAMES BOND ISLAND), stop for free activities here for approximately 45 minutes.
14.30 Back to the pier
15.00 Visit Samet-Nang-Chee view point, the best view point of Phang nga bay.
15.30 Depart from Samet-Nang-Chi viewpoint to Phuket Island
16.30 Arrive at the hotel
18.00 Pick up for dinner at our selected restaurants; Tu-Kub Khoa, Tung-Ka Cafe, Kun-Eang@pier restaurant, and relaxing after dinner
20.00 Send you to the accommodation and rest at your leisure.
*** Good night ***
---
Day 4 : Check out from the hotel and transfer you to Phuket Airport before your flight time.
Breakfast and relax until check out time
Transfer to the Phuket airport
---
END OF SERVICE
SERVICES BY TOUR-PHUKET.COM
Notes:
The program / timing might change depending on tide (sea condition). Weather conditions, accident or any other reason that concern for the safety and comfort of the all guests.
Our speedboat tour are not recommended for

pregnant women

/

person over 70 years of age

/

children under 1 year old.

/ 

any medical disability not allowed on board.

You can confirm your booking by transfer money for 30% of tour price and pay the rest on travel date at Phuket.
Free for infant (Age 1-3 years)

Minimum booking 2 adults people
Tour Included:
Roundtrip Airport transfer by Private VIP minibus.
Accommodation 3 nights with breakfast
Phuket city tour with lunch (Private tour)
English Speaking Guide
Surin islands tour by speedboat full day with lunch (Join Tour)
James Bond island tour by private long tail boat with lunch at Panyi island (Private tour)
Travel insurance
All meals with dinner at famous restaurant.
National park fee for foreigner.

Exclude

flight ticket, mini bar at hotel and alcohol drink
What to bring:
Suitcase and personal things.
Swimming suit or short and T-shirt
Sunblock
Your favorite hat and cool sunglasses
Camera or phone
Some small money on island tour
Sandals