Description
4 Days 3 Nights – Miracle of Andaman Phuket City Tour + Phi Phi Island + Phang Nga Bay
Itinerary
Day 1

: travel around Phuket town

       08.00  :

Real Phuket Tours staff are waiting to pick you up at Phuket International Airport. On the way, we stop for breakfast at

Super Dim Sum Restaurant

, Phuket Airport Branch offers breakfast, Dim Sum Bak Kut Teh, Kaolao Porridge, good taste and a wide variety of menus. Then travel to the viewpoint of 3 bays.

       10.00  :

Arrive at

the viewpoint of 3 bays

, Karon Beach, Kata Beach and Kata Noi Beach, which are very beautiful scenery. Until often people say that if you come to Phuket already I didn't come to take pictures at this vantage point. Considered not arriving in Phuket.

       10.30  :

We will travel to

Promthep Cape,

overlooking the beautiful Phuket Island. And travel to the Kanchanaphisek lighthouse Is another point of interest Which was built to honor His Majesty the King 50 Year and this lighthouse is also used as a navigational mark. As Phuket is one of the major maritime transport routes of the Andaman Sea. After that, we will continue our journey to the restaurant for lunch.

       12.00  :

Lunch at

KanEang@pier Restaurant

       13.30  :

Bring everyone to pay homage to the

Big Buddha at Khao Nak Kerd,

the Buddha image of Phuket. Foreigners, known as the Big Buddha, is a huge white Buddha statue.

       15.00  :

Bring everyone to check in at the hotel and rest at your leisure.

       18.30  :

We meet again, bringing you to a seafood dinner. You like spicy food, you will not be disappointed, there are many restaurants to choose from, such as

Pak Nam Seafood, Seree Samkong, Khraw Bon Nern.

       20.30  :

Bring everyone back to the accommodation to relax at your leisure.
***********************************************************************************************
Day 2 : Visit Phi Phi Island, Maya Pileh, Viking Cave, Monkey Bay, Khai Island by Speed ​​Boat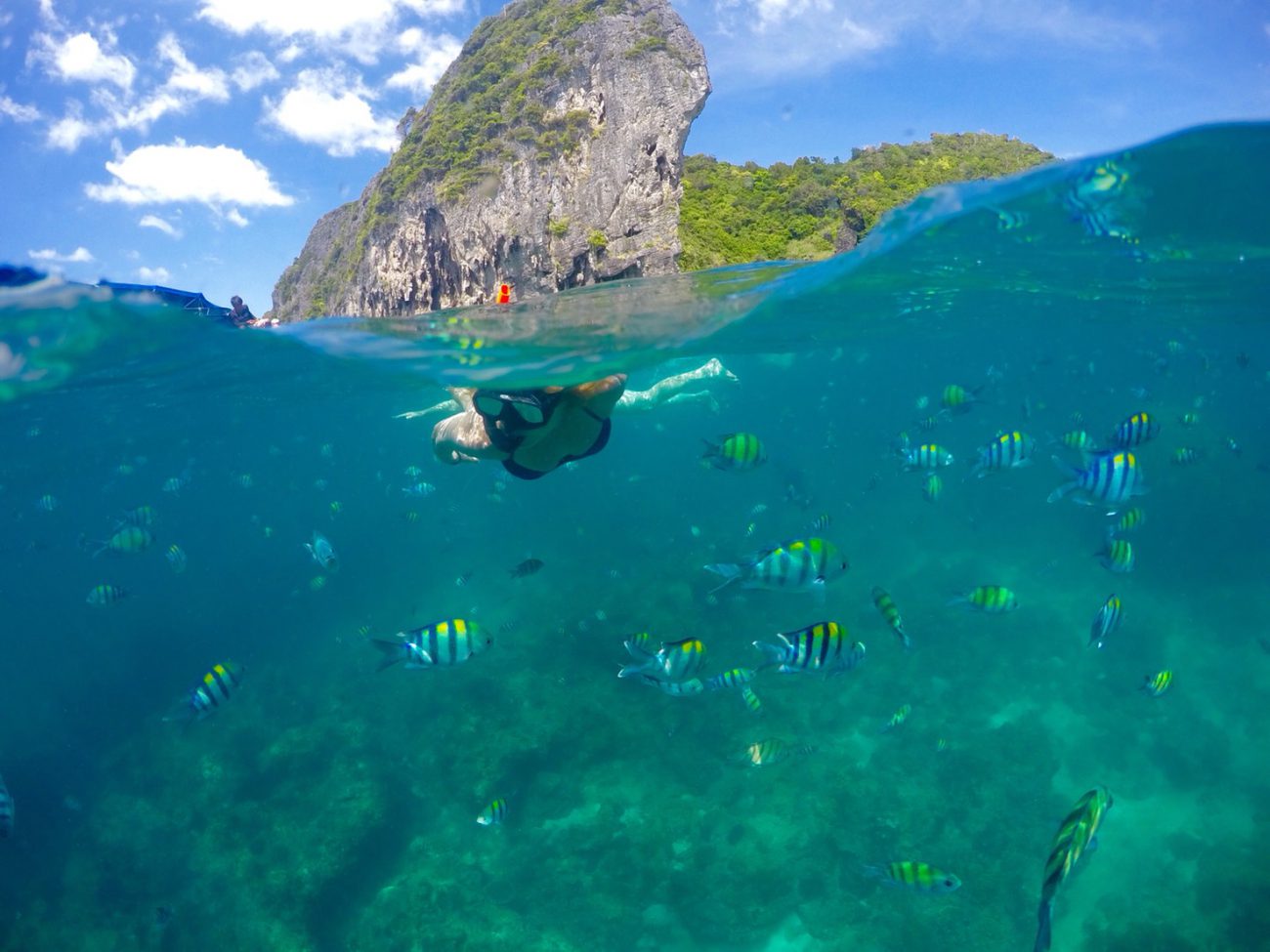 07.30  :
There is an air-conditioned van to pick you up from the hotel to the Boat Lagoon Marina. There is a receptionist and coffee and tea are served before departure.
             09.00  :
From the pier By speed boat heading to Phi Phi Island Along the way, water and refreshments are provided on board throughout the journey.
              10.00  :
The boat takes you to

Phi Phi Ley Island

, visit the scenery. Take a photo as a souvenir at Maya Beach, then the boat will take you to swim.

Pileh Bay (Inner Sea)

, a popular diving spot Where the sea in the bay is still completely as if the water in a pool. It also has a spectacular view of the limestone mountains that surround the bay. Take a photo in front of

Viking Cave

, a large swallow's nest cave with interesting stories of ancient color paintings. And the bird's nest concession Travel to

Phi Phi Don Island

. Bring you diving to see the coral. And a school of fish in Ton Sai Bay of Phi Phi Island
              12.30  :
Bring you to

Phi Phi Island

. Lunch buffet with drinks and fruits after having finished lunch you can rest at your leisure.
              13.30  :
Departure from Phi Phi Island, head to Khai Island to relax on the beach, swim in the sea or snorkel, watch the colorful fish that come to greet tourists to take pictures and swim with the fish.
              15.30  :
Travel from

Khai Island

to Phuket Pier.
              16.00  :
Arrive at the pier and send everyone back to the hotel safely.
              18.30  :
Departing for dinner, today we go to eat local Thai in Phuket at

Tu Kab Khao Restaurant.

             20.30  :
Bring everyone back to hotel and relax at your leisure.
***********************************************************************************************
Day 3 Phang Nga Bay, Khao Tapu, Khao Phing Kan, Panyee Island Tham Lod by Speed ​​Boat
             07.30  :
A van will pick you up from your accommodation after having breakfast at the hotel.
             08.30  :
Arrive at Boat Lagoon Marina, the most modern pier in Thailand, before embarking on the boat, we provide tea and coffee for everyone before departure.
             09.30  :
Depart by speed boat heading to Phang Nga Province.
               10.15  :
See

Panak Island,

limestone mountains in Phang Nga Bay.
              10.35  :
Arrive at

Hong Island,

Phang Nga Province, take a canoe through the cave, see the beauty of Hong Island, the beautiful lagoon, see Scooby-Doo dog rock and ancient paintings along the cave walls. Canoeing There is a paddler to sit.
              11.20  :
Back on the speedboat Continue the journey.
              11.30  :
Arrive at

Khao Tapu Beach , Khao Phing Kan,

the filming location of the famous James Bond 007 movie. Take a commemorative photo.
              12.15  :
Continue to Panyee Island.
              12.30  :
Arrive at

Koh Panyee.

Guided tour of the floating football stadium and lifestyle On a floating fishing village.
              12.45  :
Have a Thai buffet lunch at a restaurant on Panyee Island or a restaurant as provided by the tour according to the program.
             14.30  :
Continue the journey Heading to

Naka Island Or Koh Rang Yai

which this island is one of the saltwater pearl cultures of Phuket will choose to swim or relax on the beautiful beach clear water surface at your leisure.
             16.15  :
Return to hotel relax at your own pace and prepare to go for dinner.
             17.30  :
Van and staff waiting to pick you up to travel to have dinner at

Laem Hin Seafood Restaurant

eat fresh seafood in the sea atmosphere with local food of southern people authentic southern flavors.
             19.00  :
Bring everyone back to hotel and rest along the path.
***********************************************************************************************
Day 4, free day check out and travel to the airport
            08.00  :
Have breakfast at the hotel. Let you rest at your leisure Until check-out time.
            10.00  :
Travel to the

AMORN by Phuket Pearl.

Pearl factory to visit and buy as a gift for yourself or loved ones. It is the best shop in Phuket with a long experience and has its own farm on Laem Hin, with necklaces, rings, bracelets and much more.
            10.30  :
Arrive at the souvenir shop

Pornthip Phuket Shop

for processed dried seafood and local souvenirs from Phuket's local wisdom. By bringing local ingredients to develop to be known both at home and abroad.
            11.00  :
When finished shopping for souvenirs will take everyone to travel to Phuket International Airport to return to their hometown safely with an impression.
********************************************************************************
END OF SERVICE
SERVICES BY TOUR-PHUKET.COM
Note:
* The program / timing might change depending on tide (sea condition). Weather conditions, accident or any other reason that concern for the safety and comfort of the all guests.
* Our speedboat tour are not recommended for pregnant women / person over 70 years of age / children under 1 year old. / have any medical disability not allowed on board.
Price
Adult (Age 12+)
Child (Age 4-11yrs)
Infant (Age 1-3yrs)
xxxx THB
xxxx THB
Free
* Minimum booking 2 people
Tour Includes:
Private transfer throughout the trip.
Phang Nga Bay Tour + Canoe by Speed ​​Boat with Lunch.
Phi Phi Maya Island Tour, Khai Island by Speed ​​Boat with Lunch.
Phuket Island Tour Phuket City Tour with lunch.
Complete set of diving equipment with Fins.
Cocfanta drinking water, orange juice and seasonal fruit (Full Set) on board.
All meals.
3 nights hotel accommodation with breakfast for 2 persons.
Accident insurance.
Not including airfare And alcohol.
What to bring:
* Towel
* Swimming suit or short and T shirt
* Sun block
* Your favorite hat and cool sunglasses
* Camera
* Some small money