Description
Wonders of Andaman 4 days 3 nights traveling around Phuket Island + Similan Island + Coral Island – Racha Island.
Itinerary
Day 1 : Pick up from the airport Travel around the island with a Private VIP van, check in to your hotel, accommodation, boat lagoon.

                   08.00

Private VIP air-conditioned van and staff will pick you up at Phuket International Airport. And bring you to have breakfast at

Jepum Dim Sum restaurant

has a good idea at Bak Kut Teh, which smells Chinese medicine soup.

                 09.00

Take a photo together at

the viewpoint of 3 bays

, which is a wonder of nature that was carefully created. It offers views of the 3 bays: Kata Noi Bay, Kata Bay and Karon Bay, which is a very beautiful scenery.

                11.00

Go to see

"Laem Phrom Thep"

, a rocky cape that juts into the sea. There are many palm trees at Cape Promthep. But later there were many broken palm trees from the strong wind Standing at Promthep Cape looking out to the sea, you will see Koh Kaew Noi – Big Kaew Island in front of you. And is a very beautiful natural view point.

               11.40

Pay homage to

Luang Por Cham at Wat Chalong or Wat Chaitharam.

It is a famous priceless temple of Phuket, if anyone comes to Phuket, you must pay homage to Luang Pho Cham of Wat Chalong for your fortune.

                12.30

Go for lunch at

NaRimTang restaurant,

the signature menu of the shop is the grilled pork neck. Mee Chan Crab Curry Or crab meat curry Eat together with boiled stock vermicelli, etc.

                14.00

Take a tour of the beautiful buildings, houses, ancient buildings, Sino-European architecture in Phuket town that have different characteristics according to the structure. And economic status of

the owner at the old Phuket town.

                  15.00

Take you to Check in at the hotel, Boat Lagoon Resort & Spa where you can watch yachts. Many parking sources And rest at your own pace

                 18.00

Go for dinner at

Laem Hin Seafood restaurant

, seaside atmosphere, fresh food from the local fisherman sea.

                 20.00

The car sends you to the accommodation and rest at your leisure.
********************************************************************************************************************************
Day 2 : Similan Full Day Tour by Speed ​​Boat
Similan Islands National Park Located in Lam Kaen Subdistrict, Phang Nga Province, covering an area of ​​128 square kilometers (80,000 rai) was declared a national park area on September 1, 2525. The word "Similan" is Yawi or Malay, meaning nine or small islands in The Andaman Sea 9 islands, ordered from north to south, are Bon Island, Ba Ngu Island, Similan Island, Payu Island, Five Islands, Miang Island, Payan Island, Payang Island and Hu Yong Island. Loei Islands This is beautiful both on land and under water, able to dive in both shallow and deep water. Is from November to April And will announce the closure of the park in mid-May of every year.
Various attractions
Tourist attractions within the park are Koh Yung or one of the islands, a large island with white sandy beaches and the longest of the nine islands from November to February. Often there are sea turtles. Come to lay eggs and find traces that turtles lay eggs like With a small footprint on the beach of Koh Miang or Koh Si is the location of the Atuiyan office There is a source of fresh water and accommodation to serve tourists, white sandy beaches like powder, clear water on the island.It is the habitat of "chicken crab", a freshwater crab that likes to live In the stream, its body is bright red The claws are black, glimpse blue. When singing, it will sound like a chicken, found in the evening. Which is when looking for food, "Nicobar" is a resident bird of the same family as the wild pigeon Have beautiful colors and patterns They can be found on the beach and in front of the visitor center, while "hermit crabs" are plentiful on the rocky Pusar beaches between Koh Seven and Koh Eight. It is a rock jets of water, beautiful underwater conditions, like an underwater valley full of soft corals. Fan shaped coralline Various colors of fish species And can also find manta rays Or whale shark at most.
             Koh Similan or Koh Pad is the largest. The bay is a horseshoe-shaped arch with soft white sand and clear water. Can dive in both deep and shallow water Fantasea rock area in the west of Koh Eight is the focal point of the flower rock Coralline coral Various kinds of aquatic animals Including other points of interest such as a boot stone Or a picture of Donald Duck's head, for example On the upper part that corresponds to the beach, there is a sailboat shaped rock which It is a point to view the beauty of the sea far and wide. Koh Ba Ngu or Koh Kao is a small island with various rock formations. Especially at the dive site Christmas Point Mound It is a large beautiful pile of underwater rocks that are stacked in a wide area amid the perfect coral reef and coralline And still being inhabited Of various fish such as ribbon eel, silver fin shark, grouper, goby, grasshopper, etc.
The charm of the Similan Islands is white sandy beaches. Beautiful views from every degree Really worth the long boat ride. In order to see the beauty of the sea of Thailand that foreigners have come to travel We Thai people have to get a good trip with the service, so we offer a good program for you to choose to book with us.

Itinerary
                              06.30

Pick up everyone from your hotel in the morning to travel to Tublamu pier. It takes about 2 hours.

                             09.00

Arrive at Thap Lamu Pier, Phang Nga Province, check-in and receive diving equipment Breakfast Service.

                             09.30

Depart for

the Similan Islands.

And first dive to see the beauty of the sea See the colorful fish and corals at

island 5 or island 6 and continue to island 4 (Koh Miang).

                             12.00

Have a buffet lunch of the park on

4 islands

after eating.Enjoy snorkeling / swimming around

Princess Beach.

                             13.00

Take you to snorkeling at

Koh Ba Ngu (Island 9)

at

Christmas Point

, a highlight with stunning coral reefs and a variety of colorful fish.

                              14.30

Arrive at

Donald Duck Bay of Similan Islands (Island 8).

Enjoy a break on the beach, swim, take pictures or climb a viewpoint on the sailing rock, which is the symbol of the Simi Islands. Alan All visitors must have a souvenir photo of the sailing rock.

                              15.00

Take you to see the sailing stone. Symbol of "Similan Sea" at

Island 8 (Similan Island)

or choose to relax Play in the water at the beautiful Kuek Bay.

                              15.30

The boat left Similan and went back.

                            17.00

Arrive at Thap Lamu Pier, Phang Nga Province, return to Phuket and stop for dinner at

Ta Thuay Restaurant

, famous for fresh seafood and local dishes such as "Papaya Salad with Seaweed" that uses seaweed to make papaya salad. They are fresh ingredients from the store because they are grown by seaweed. One dish gives a lot of volume. Another recommended menu "Aunt Niao's Cockle" is served in a very large size, fresh and sweet.

                            21.00

The car sends you to the accommodation and rest at your leisure.
********************************************************************************************************************************
Day 3 : Coral Island + Racha Island by Speed ​​Boat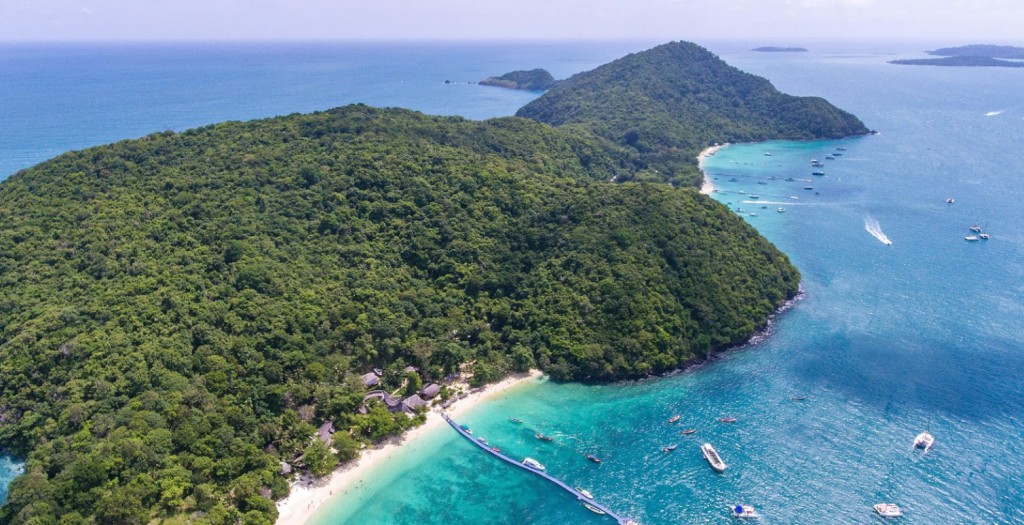 08.00

Receive everyone from the accommodation. Take a boat at Chalong Pier. And traveled to Coral Island During the cruise, everyone can enjoy taking pictures.

                          10.00

Relax and enjoy the crystal clear water. Enjoy swimming, snorkeling, and watching colorful small fish and corals at

Coral Island.

                         12.00

Depart from Coral Island to Racha Island with lunch, fruit and drinks on board.

                       13.00

Arrive at

Racha Island

, see the beautiful scenery. White sand beach the water is crystal clear, blue, beautiful. Exciting in the snorkeling. See colorful corals and a variety of fish.

                      15.00

Return to Chalong Pier.

                      16.00

Return to the hotel to stay safely.

                     18.00

Receive everyone traveling to have dinner at

Tu Kab Khao restaurant

beautifully decorated, good atmosphere, taste local food of Phuket people.

                    20.00

Send everyone to the accommodation and relax at your leisure.
********************************************************************************************************************************
Day 4 : Check out , Mae Zhu souvenirs and send everyone at the airport.
                          08.00

Check out from the hotel

                        09.00

Go to

Khun Mae Chu

. Souvenirs from Phuket Town As a souvenir center Local food And souvenirs Phuket's famous dishes are complete with shrimp paste, tofu skewers, fish kidney curry, etc.

                       10.30

Take you to Phuket International Airport safely and with an impression.
********************************************************************************
END OF SERVICE
SERVICES BY TOUR-PHUKET.COM
Note:
* The program / timing might change depending on tide (sea condition). Weather conditions, accident or any other reason that concern for the safety and comfort of the all guests.
* Our speedboat tour are not recommended for pregnant women / person over 70 years of age / children under 1 year old. / have any medical disability not allowed on board.
Price
Adult (Age 12+)
Child (Age 4-11yrs)
Infant (Age 1-3yrs)
xxxx THB
xxxx THB
Free
* Minimum booking 2 people
Tour Includes:
Airport Transfer – Hotel Accommodation Private VIP.
Private Tour of Phang Nga Bay.
Tour program around Similan Islands Join trip.
Coral Island, Racha Island with lunch, coffee.
Hotel specified 3 nights with breakfast, stay in a room for 2 persons.
Tour guides for the whole trip.
All meals.
Water, drinks, cool towel throughout the trip.
Traveler's insurance according to the policy.
Not including airfare And alcohol.
What to bring:
* Towel
* Swimming suit or short and T shirt
* Sun block
* Your favorite hat and cool sunglasses
* Camera
* Some small money