Description
P095 – 3 Days 2 Nights Phuket + Similan island tour Full services
Itinerary
Day 1: Airport pick up, Phuket city tour then hotel check-in
Private VIP air-conditioned van and staff will pick you up at Phuket International Airport on your arrival time (recommend morning flight). Then we are heading on a Phuket city tour.
09.00-10.00 Tour guide and VIP van pick up you from Phuket Airport.
10.30 Take a photo together at the viewpoint of 3 bays, which is a wonder of nature that was carefully created. It offers views of the 3 bays: Kata Noi Bay, Kata Bay and Karon Bay, which is a very beautiful scenery.
11.00 Go to see "Laem Phrom Thep", a rocky cape that juts into the sea. There are many palm trees at Cape Promthep. But later there were many broken palm trees from the strong wind Standing at Promthep Cape looking out to the sea, you will see Koh Kaew Noi – Big Kaew Island in front of you. And is a very beautiful natural view point.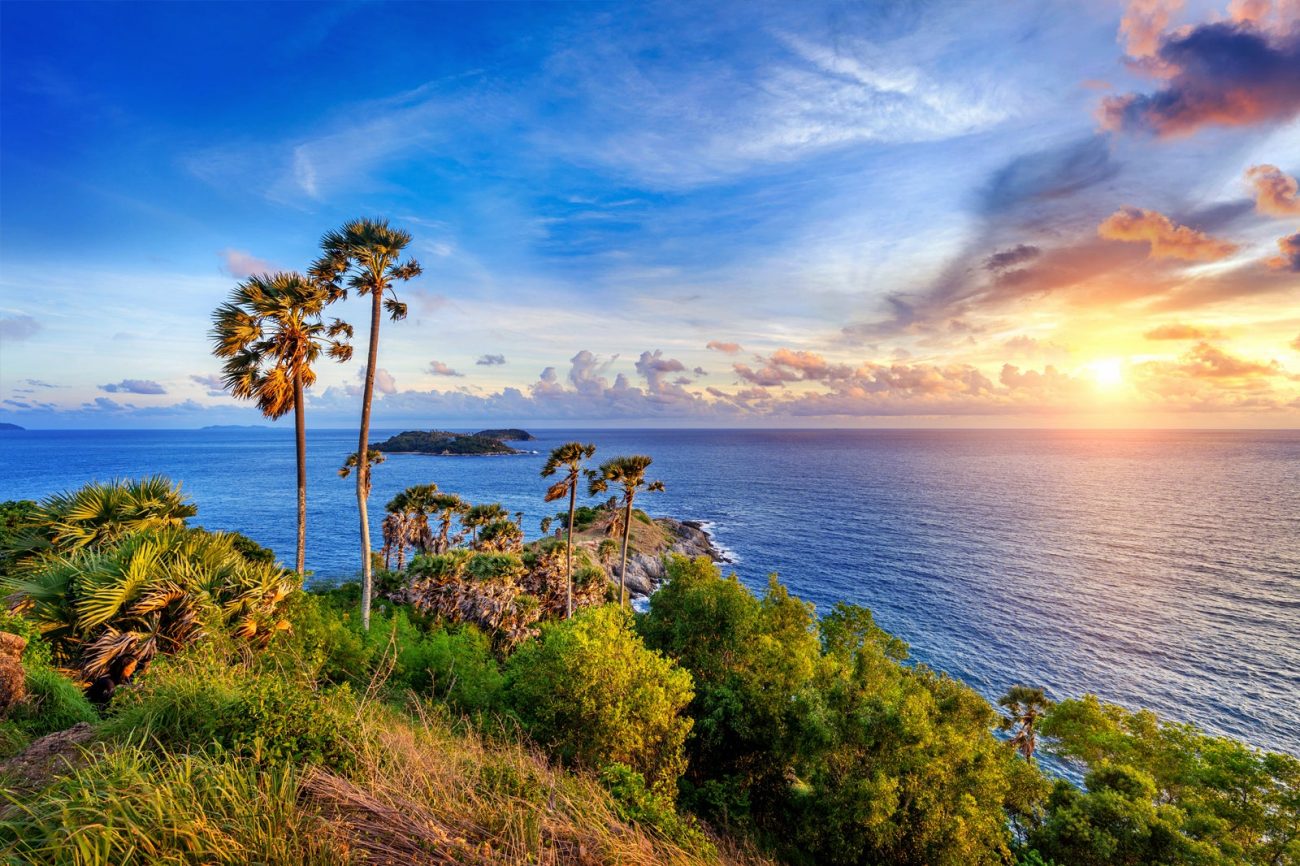 11.30 Go to pay homage to the Big Buddha at Khao Nak Kerd, the Buddha image of Phuket. The foreigner, known as the Big Buddha, is a huge white Buddha statue.


13.00 Go for lunch at NaRimTang restaurant, the signature menu of the shop is the grilled pork neck. Mee Chan Crab Curry Or crab meat curry Eat together with boiled stock vermicelli, etc.
14.00 Pay homage to Luang Por Cham at Wat Chalong or Wat Chaitharam. It is a famous priceless temple of Phuket, if anyone comes to Phuket, you must pay homage to Luang Pho Cham of Wat Chalong for your fortune.
14.30 Take a tour of the beautiful buildings, houses, ancient buildings, Sino-European architecture in Phuket town that have different characteristics according to the structure. And economic status of the owner at the old Phuket town.
15.30 Take you to Check in at the hotel.
18.00 Go for dinner at Ton Oak restaurant.
20.00 The car sends you to the accommodation and rest at your leisure.
*** Good night ***
---
Day 2 Similan islands tour by speedboat full day with lunch. (Join Tour)
05.30 Good morning
06.00 Get breakfast box from the hotel then transfer to the pier at Phang-nga province by our minibus about 2hrs.
08:00 Arrive at the pier and have breakfast with coffee and tea. Provide snorkeling equipment.
08:40 The Tour guide will brief today's tour program before we depart to Similan Islands National Park.


10:10 The first stop on Koh Miang (Koh 4). Enjoy the beautiful views of the white sand contrasting with the color of the sea, and will meet with the fauna of the Similan Islands, such as Flying foxes and Nicobar pigeon.
10:50 Head to the island Payu Island (Koh 7). Enjoy snorkeling species of coral and fish of various species.
11:30 Arrive at Ba Ngu Island (Koh 9.) with panoramic views of the landscape and spectacular snorkeling among the many brightly colored fish.
12:00 Arrive at Similan Island (Koh 8). Enjoy the buffet lunch
13:30 After lunch, we are walking up to the viewpoint, which will find a huge boulder shaped like a sailboat called the "Sailing Rock" and you will be impressed with panoramic views from the viewpoint of Similan Island (Koh 8).
15:30 Departure from the Similan Islands to the pier
16.30 Departure from the pier to the hotel.
19.30 Pick up for dinner at our selected restaurants; Tung-Ka restaurant and relaxing after dinner
20.30 back to the hotel.
***Good night ***
---
Day 3 Check out from the hotel Day and Phi Phi – Khai Island Tour by speed boat (Join tour) then transfer to airport
06.30-07.00 Morning breakfast in the hotel
08.00 Pick up from the hotel lobby and transfer to the pier
09.00 Departs from the pier to Phi Phi Island


10.00 Sightseeing around emerald sea and its stunning bays, coves and caves at PHI PHI LE island , Maya bay where the movie The Beach was filmed.
10.30 Swimming and enjoy taking photos from the boat of the beautiful scenery at Pileh lagoon
11.20 Snorkeling at the Viking cave.
11.50 Visit Monkey beach at Phi Phi Don island.


12.00 Lunch buffet at Phi Phi Don island by Thai, Western, Vegetarian, Halal foods at a private beachside restaurant. and relax on the beach.
13.00 Departs from pier to Khai island.
14.00 Leisure relax on KHAI ISLAND and enjoy snorkeling, sun tanning and swimming with numerous corals and colorful fishes.
16:00 Arrive at the pier
17.30 Transfer to Airport before flight time 1.30hr
End of a happy trip
Thank you for choosing our Tour-Phuket service and we wish you have a safe journey
SERVICES BY THE MASTERPIECE ADVENTURE CO.,LTD.
ADDITIONAL INFORMATION:
This tour program is subject to change without prior notice, In this regard, it's important to take into account the safety and benefit of travelers
Not recommended for pregnant travelers, child under 1 years of age, elderly 70 years old and over
No heart problems or other serious medical conditions
Not recommended for travelers with back problems
In case that you are not satisfied with our tour program , we will re-arrange a program as possible as we can
Child under 3 years old is FREE OF CHARGE
This trip requires at least 2 Adults.
In case of a solo traveler, there will be additional charge.
This tour/activity will have a maximum of 10 travelers. If more, please contact us for the best price.
WHAT'S INCLUDED :
A private van for whole trip
stay at your chosen hotel :Room include breakfast for 2 nights  and 2 persons per room
A one day trip in Phi Phi Islands by a private speedboat including lunch. (Join tour)
A one day trip in Similan Islands by a private speedboat including lunch. (Join tour)
A 5 –hours Phuket Sightseeing Tour by a private VIP van including lunch
National park fee
Snorkeling equipment
All meals are included
Snacks, refreshment and fruits will be served on board
Domestic travel Insurance ( coverage up to 1,000,000 THB / person)
EXCLUDE: air ticket fee, alcoholic beverage, VAT7%, minibar in a hotel, tips and gratuities , other personal expenses.
What to bring:
Your necessary belongings
Your own medicine
Swimming suite and sandals
Sunscreen lotion
hat
sunglasses
Camera ( water resistant would be great )
Pocket money
CANCELLATION POLICY:
For cancellations made 14 days prior to a start date, a cancellation fee of 100% will apply
 PAYMENT :
Deposit 50% of the total price on a book date and the rest will be paid upon arrival date
Credit card accepted (Visa , Master card) there will be 3% surcharge.